On-page SEO involves optimizing web pages for the purpose of boosting their ranking on search engine result pages for certain keywords. The ultimate goal is to increase organic traffic coming to your website.
But what exactly does on-page optimization involves?
The majority of the advice on on-page SEO revolves around the factors and not the strategies to use. For instance, placing your primary page's keyword on the title, Meta description and in subheadings, etc.
However, things keep on changing, and you have to evolve as well to keep up. For instance, you should use semantically-related keywords to prevent your content from being flagged as keyword-stuffed content.
To help you better understand this aspect of SEO, here are on-page tactics to use to enable you to reap the benefits of your on-page SEO efforts.
On-Page SEO Strategies to Improve Google Ranking
1. Create Lengthy Content
The quality of the content on your website is what attracts visitors. Your visitors want to read something unique and content that solves their problem. Therefore, by providing powerful, engaging content, you will not only be attracting more visitors to your site but also enhancing your brand loyalty. It is likely that you will start getting return visitors.
Search engine algorithms are now more intelligent than before and can monitor user experience signals and also identify the time spent by each visitor on your web page and how well your content fitted their search query intent.
That's why you are advised to create lengthier engaging content. In fact, pages with over 2000 words are said to rank better on search engine result pages.
Also adding complementary visuals such as graphics, infographics, graphs, and videos help to provide visitors with better-quality information, and thus keep them longer on your site.
2. Focus On Making Your Content Readable And Engaging
Engagement should be one of the on-page SEO factors. Engagement means how well your content meets the needs of your target audience in an interesting way.
Yes, an article may be purely informational, but a clever copywriter should compile it in a style and tone that the target audience will understand and feel engaged. Therefore, in addition to creating lengthy, well-researched content with backed-up data and relevant examples, make sure to make it engaging as well.
Engagement means using a language that addresses your audience. Make use of 1st and 2nd personal tone to make your content less formal. This way, your target audience will be able to relate to it better than when you use 3rd person's voice.
It is also important to make your content readable by dividing it into subtopics and avoiding long paragraphs. Most of today's online audience like skimming through content rather than reading each and every word. They want to spend the least time reading your lengthier content. That's why you should make it easier for them by including as many subheadings as possible and also creating short paragraphs.
Therefore, make use of headings and subheadings (H1s, H2s, H3s, etc.). This not only benefits your readers by making it easier for them to digest your content but also helps search engines crawl your site easily.
Also, make sure to place your most important points at the top of a web page.
3. Use Keywords Wisely
Keywords were and are still a very important part of on-page SEO. They remain to be the only element that tells Google what the main topic of your web page is all about. However, the days of ranking pages with the highest percentage of keywords are long gone.
Google algorithms can now easily detect a page that has been keyword stuffed from a mile away and penalize it before it even makes its way to the top. Therefore, the best advice now is to use the right keywords in moderation. Synonyms are useful as they enrich your text, and help to point to Google what your content is all about.
4. Make Use of Latent Semantic Keywords
To make it easier for search engines to understand your content and easily match it with specific search queries, you should include keywords that are semantically related to your topic. This is called Latent Semantic Indexing or LSI, and it involves using related words or phrases together. It is important that you make use of LSI keywords, those phrases and keywords that are related to your overall topic.
For example, if someone is looking for an SEO agency in Atlanta, LSI keywords such as best SEO agency in Atlanta, SEO agency Atlanta, and SEO services Atlanta, would help Google determine that your web page offers SEO services.
You can use Google to look for LSI keywords, whereby you type your main keyword and scroll to the bottom of the search results. You will find keyword suggestions that Google has listed, which are normally semantically related to your main keyword.
Remember to use keywords (either primary keyword or LSI keyword) in your Meta tags, headings, first paragraph, in the body of your post, and in last paragraph. However, always ensure that you are integrating them in a natural way.
5. Optimize Your Page Elements
There are various elements that make up a web page, including URL, meta tags, meta description, and much more. All of these should be optimized. Let's talk about the main components you should optimize as part of your on-page strategy.
i. Meta Tags
These are snippets of text that describe your webpage content to search engines. It is, therefore, important to keep your Meta tags relevant and updated as this helps search engines determine what your page is all about.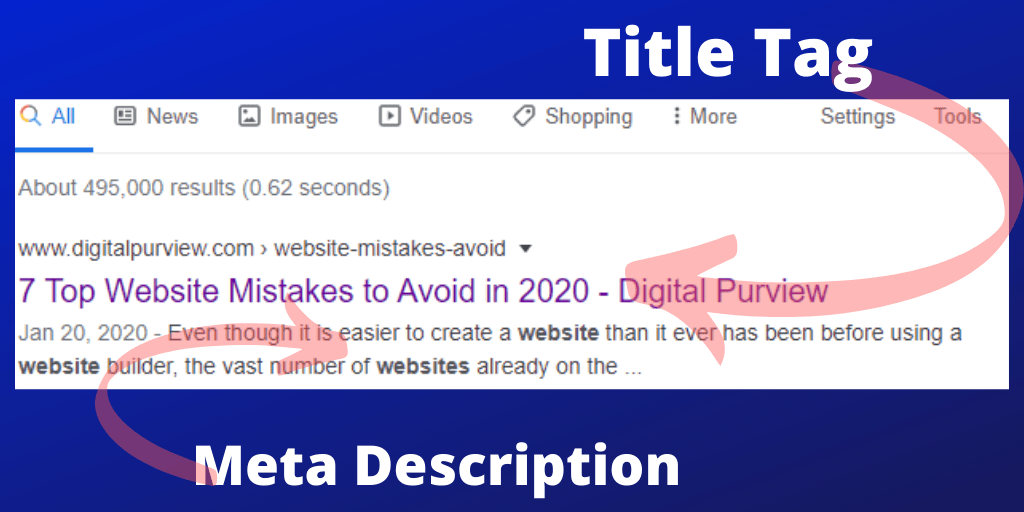 ii. Meta Titles
Meta title tag remains one of the most important elements of a web page. A page's title tag can influence your ranking, especially when it has used your focus keywords. It should be unique, engaging, and natural. If the keyword suits you, try to include it at the beginning of your title. Also, try to include adjectives as well as dates such as 'best,' ' top 5,' '2020 on-page guide,' etc. These have been proven to increase the click-through rate. Your title should not exceed the 71 characters limit, but it is important to keep them between 60-70 characters.
iii. Meta Description
These are written for users to help them understand what your page is all about quickly. A good Meta description should increase the click-through rate. These descriptions appear immediately after your title and web page address on search engines. Make sure to include your main selling points. Do not force keywords on your Meta description, unless they integrate naturally. Meta descriptions should be under 160 characters.
iv. Heading Tags
These are important page elements. You should make use of H1s and H2s as they influence your rankings. Subheadings give your web content a clear structure to help Google bots easily understand your content when indexing.
v. Image Tags
These are often forgotten but are really important, especially when you are placing keywords in them. They are the best places to distribute your LSI keywords. Just don't forget to describe the images too.
vi. Structured Data.
This is another element of a web page that you should optimize. Use schema.org to know the data sets that search engines use to reference. Popular data sets you should include in your structured data are reviews, ratings, and product information, especially if you are recommending products. This data shows up in 'rich snippets' of search engine results, and thus can help boost click-through rates.
vii. URL Optimization
You should keep your URL SEO-friendly. Your web pages' URLs play a vital role in your pages' ranking. To keep it SEO friendly, ensure that it is short, has the page's primary keyword in it, and doesn't have special characters.
6. Link Your Pages Internally Using Relevant Anchor Text
Internally linking your pages is not only important for your users but also for search engines. Search engine bots will use your interlinked pages to understand your content and the architecture of your website.
The most important thing is to use relevant anchor text when linking your pages internally since your goal is to keep your reader on your website longer and help search engines crawl your website easily.
When you link your fresh content with the older one, you are giving power to these pages by telling Google that they are still relevant. If you fail to link your new pages to your older ones, Google will likely degrade them as it will begin to view them as outdated and older. By linking new pages to older ones, you will also be passing quality link juice to them. This means that whenever one page on the chain gets a backlink from high authority sites, all the other pages linked to it benefit.
That's the importance of internal linking. However, make sure not to overdo it.
Bottom Line
As you can see, on-page SEO is more than adding a few keywords to your content and Meta description. It is more focused on fulfilling search intent and allowing search engines to understand your content better. This is the most important function of on-page elements.
If you fail in your on-page SEO efforts, all the other search engine optimization efforts will be in vain.
That's all for you in this post. While writing your articles, make sure to keep these on-page SEO strategies in mind.