Are you looking for a quality WordPress host? Then, you would have come across A2 Hosting.
Is this a Good WordPress Host? Can they live up to the expectation of hosting really fast WordPress website as per their claim?
We will look at these questions and many more in this detailed post. We currently host our WordPress website on A2 Hosting. This review focusses on the relationship between A2 Hosting and WordPress, which will furnish you with the information you need to make an informed choice.
A2 Hosting Review
We'll break the review down into bite-sized chunks to make it easier to digest, starting with:
Speed
The key to any successful website is good Search Engine Optimisation (SEO). This basically arranges your site in such a way that it shows up in searches, runs quickly, and encourages people to interact. This is a continuous process and not something you can do once and then leave to its own devices.
And this is where A2 Hosting stands out, with its high-speed Turbo Servers. One thing that puts internet users off very quickly is slow-loading pages. The average person will leave a web page in less than 15 seconds if they don't see something they like, or if the page is slow. Even a delay of 1 second can increase 'bounce rates', where visitors click away from your website. It has been proved that quicker sites have better SEO rankings, keeping your business visible.
Because of the super-fast servers, WordPress is given a boost (up to 20 times faster) which allows your snappy content to load instantly. Other hosts may struggle with this, as add-ons, large, high-res images and widgets can seriously clog up WordPress at times. A2 Hosting has overcome this problem, to great effect by incorporating the dedicated speed optimisation plug-in just for its lightspeed server-based WordPress, called LiteSpeed Cache for WordPress (LSCWP).
Speed Test Results
To check the performance, we ran a few tests.
To begin with, we tested how a default version with no extra plugins and themes performs. We hosted a test website and didn't change any settings, and didn't install and activated any additional themes and plugin. Here is the result.
Google page speed insight received a score of 100 for mobile test with loading time of 1.5s.

Google page speed insight received a score of 99 for desktop test with loading time of 0.5s.

Pingdom test showed a loading time of 374ms.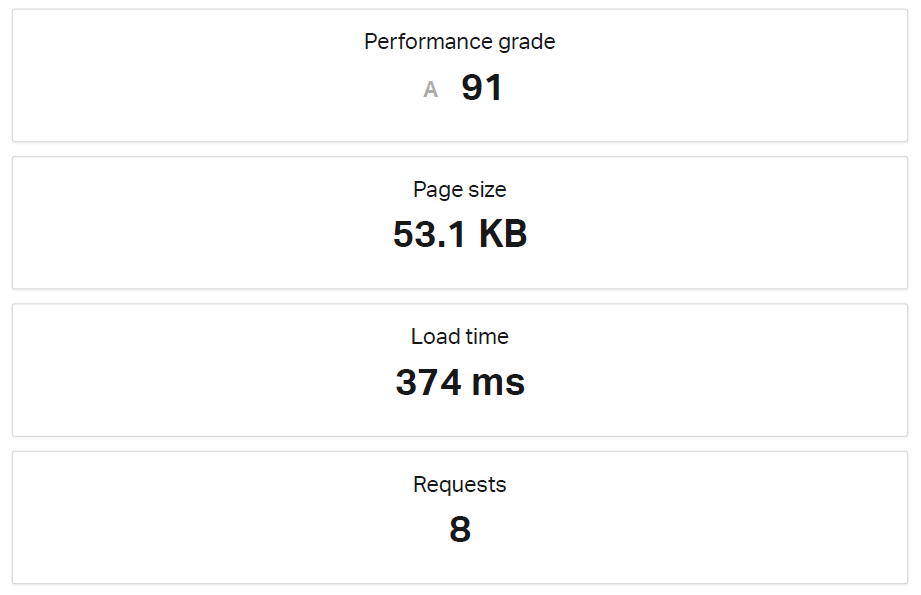 The truth is that most of us won't use the default version of WordPress. We will at least change the theme and add plugins. So, for a more realistic test, we changed the theme and activated more plugins.
Below are the changes we made
Changed the theme to Astra
Installed and activated Divi Plugin
Activated Jetpack plugin
Activated Akismet antispam
Implemented Google tag manager and Google analytics
Posted a blog post with 5 images
Here are the results after these changes.
Google page speed insight received a score of 89 for mobile test with loading time of 5s.

Google page speed insight received a score of 99 for desktop test with loading time of 0.4s.

Pingdom test showed a loading time of 399ms.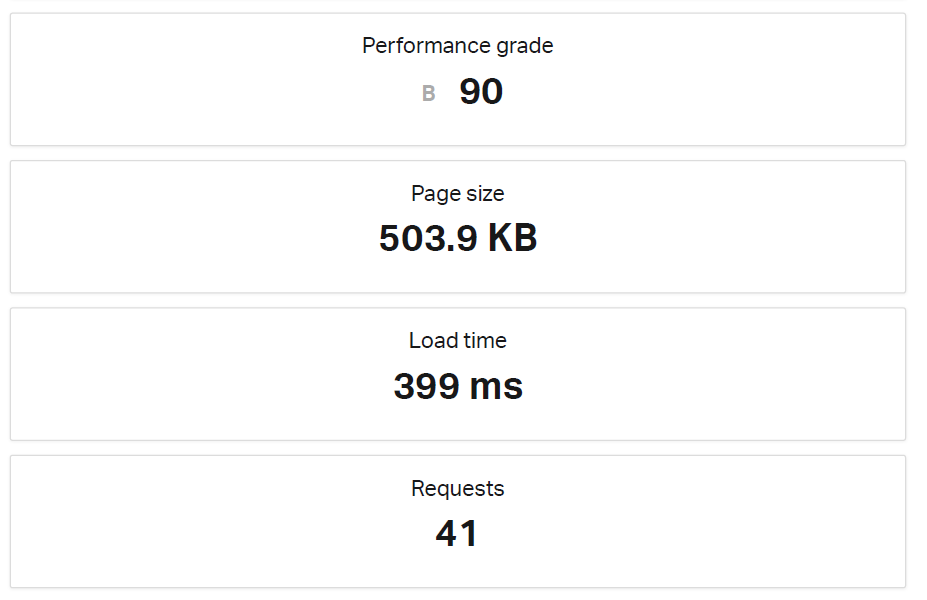 Now, keep in mind that the results would vary based on when these tests are taken, so we should not rely totally on one time result.
However, the speed test consistently showed pretty good performance. So, you can trust A2 Hosting for a fast loading website.
Space
At the lowest end on its 'Shared WordPress Hosting' options, A2 Hosting offers 100 GB for one website, which is more than enough for most websites. The average WordPress host user only uses about 1 GB of data for a single WordPress installation.
At the higher end, the company offers unlimited storage on SSD (Solid State Drive, which uses 'flash-based' memory) and NVMe (a means by which data is accessed).
With regards to the 'Managed WordPress Solutions', A2 Hosting has three options; 10GB, 25GB, and 40GB. The first option is for one website, the second supports up to three, and the third offers unlimited websites. While these may seem fairly low, most websites will never cross even 10GB. The packages also come with a whole range of extra features (such as a Jetpack Personal Licence, designed for extra security, real-time back-ups, and spam protection) that add extra value to the deal.
Future-Proofing
A2 Hosting uses PHP7, which is a scripting language embedded in HTML that helps to generate HTML pages on request. While this may not mean much to some people, it is great news for the future of website design. PHP7 offers a range of excellent features, including the ability to easily adapt content for mobile devices.
About half of all web search traffic is undertaken on a smartphone, with nearly 40% of all online transactions in 2019 being made this way. In relation to WordPress, this is also good news; WordPress has been 'fine-tuned' to make the very most out of PHP7.
Without getting too technical, PHP7 massively increases bandwidth and strips down the number of commands needed to perform the same WordPress functions (for example, where an older version required 100 million CPU instructions, PHP7 requires only 25 million instructions for the same request).
Also, A2 Hosting maintains that it is a 'proud member of the WordPress Community', actively engaged in monthly 'meet-up' and WordCamp forums to interact with other WordPress users. This helps to keep up to date with the latest in WordPress issues and to exchange tips and advice for getting the most out of the platform.
Security
An estimated 30,000 websites are hacked each day, which is a pretty scary figure. A2 Hosting offers comprehensive protection for its WordPress hosting solutions, including a free SSL certificate (small data files that establish an encrypted link between sites) that lets you take card transactions safely.
Other security features include:
HackScan protection – blocks hackers before they can do any damage
Brute Force Defense – limits login attempts
Reinforced DDoS (Distributed Denial of Service) protection – keeps your site running even during sophisticated attacks
KernelCare – keeps security updated without having to continually reboot
Dual Firewall – double the protection!
Free HTTPS Protection – providing a secure and private online experience
Affordability
While WordPress itself is free, and free hosting is available, you should expect to be bombarded with banner ads on your site and emails urging you to make an upgrade if you go with free hosting. Support may be an issue as well; you're not paying for the service, so why would they rush to help you out? After all, the old saying goes, 'you get what you pay for'.
Having said that, A2 Hosting prides itself on offering a solution that is affordable and support is available to all, regardless of budget. There are four 'Shared WordPress Hosting Solutions' and three 'Managed Solutions', and it has to be said that the prices which start from $2.99 per month are extremely favourable when you consider what's included. Even better, look out for the discounted rates, which are exceptionally good value.
A2 Hosting offers a 30-day money back guarantee, which is quite common for hosting companies. But they are so confident in their services that they go one step further, and offer any time money back guarantee. This means you can request a prorated refund even after 30 days, so you are never locked in.
Convenience
As much as you want to be involved in the setting up and running of your website, not all of us are comfortable with the technical side. WordPress can be a bit daunting to those with little experience of the installation and operation involved.
A2 Hosting has introduced 'A2 Optimized' to counter this, by pre-installing WordPress for you, then adding auto-configuration to provide the optimum performance and the most secure settings, leaving you to focus on your content.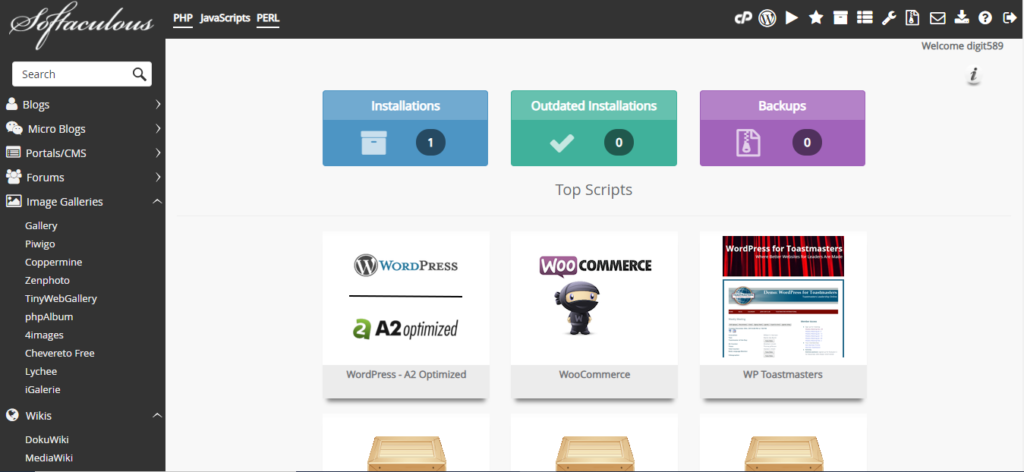 Once installed, all you need to do is review and take actions to keep your site optimized.
A2 Hosting together with WordPress makes an attractive solution for complete beginners as well as those with more experience. Each solution is scalable, growing with your business needs, and 'developer-friendly', giving you the option of making any changes you wish.
Support
The support from the A2 Hosting team is available via phone, email or live chat 24 hours a day, 365 days a year. Most of the time, we have contacted the support via live chat. It took us usually 10 to 15 mins to connect to technical support. This wait time, while not terrible, is not great also as compared to others in the industry.
And then there's the '99.9% Uptime Commitment' which states the company will do its best to keep your site running. It understands that any 'downtime' will potentially cost your business money. Aside from circumstances beyond its control, it will ensure that your website is open for business by working with you to resolve any issues.
In our experience, we have found that the site rarely goes down. You can also check the status of their service.
What to takeaway
All of this can be a lot to take in, with terms you may not be familiar with. So here's a quick A2 Hosting Review 'takeaway':
You don't need to have a lot of experience with computers or WordPress
Most WordPress components are 100% free
Easy-to-use control panel
1-click WordPress installation and setup
WordPress is SEO ready, so you have a strong foundation to get free traffic
Extend and expand WordPress using the wide selection of plugins
Comprehensive and reliable security features to ensure your site is safe from attack
Incredibly fast servers to ensure better visitor satisfaction, higher conversion rates and better SEO ranking
Dedicated 24/7 365 support from the 'Guru Crew' to help you resolve your WordPress problems and keep your site running smoothly
Any time money-back guarantee!
This covers most of the main points, but there are other features included – depending on which solution you prefer. All of them also include unlimited email accounts, as well as a handy feature that lets you choose the data centre closest to your visitors. This increases the speed and performance of your site.
If all this wasn't enough, A2 Hosting has some more tricks up its sleeve in the form of 'Performance Plus', and the 'A2 Site Accelerator'. Where many web hosts shy away from offering enhanced caching solutions, A2 Hosting is happy to oblige, with a range of extra speed-enhancing tools available with a few clicks.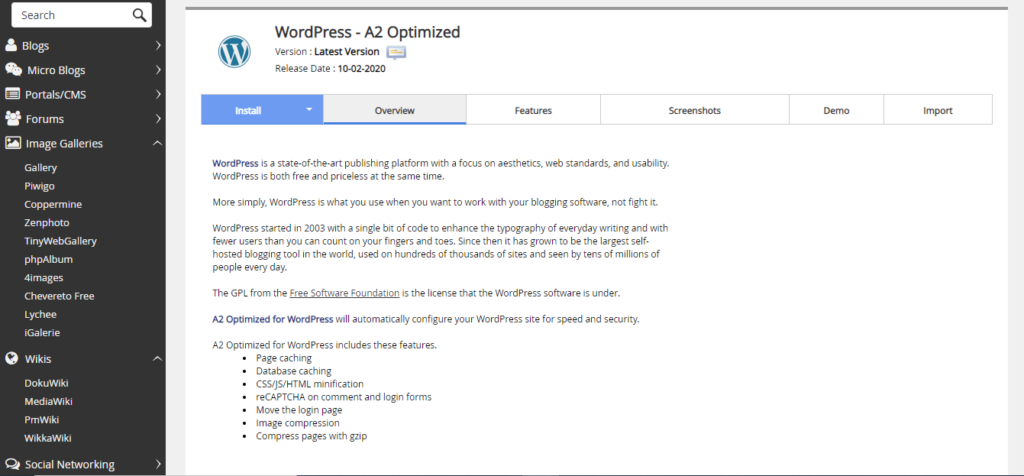 WordPress has secured its place in the online world. But without a good WordPress optimized WebHost, you won't get the full benefit of WordPress features. If you are looking for extra performance and speed, A2 Hosting is a great choice.