Hostinger is one of the most reliable web hosting services mainly known for its cheap cost and high performance. But is it really worth considering? Let's find out!
In this review, we will cover each and everything about Hostinger, from its features, loading speed, pros and cons to pricing. At the end of this article, you'll be able to decide whether or not Hostinger is a good host to consider for your WordPress site. So, without any further ado, let's begin!
Hostinger is not a very old player in the market but it has gained significant popularity in less time. The company has made its name as a low-cost web hosting service. As a matter of fact, it boasts over 29 million active users across the globe.
Hostinger Web Hosting Review
If you're a beginner on a tight budget, Hostinger is a great option for you. Here, we will see if this service is good for WordPress sites or not. To begin with, here are the most common features of Hostinger web hosting.
Main Features And Benefits Of Hostinger Web Hosting
Good Uptime
Generally, cheap web hosting doesn't offer very impressive uptime. Hostinger, however, offers a 99.9% uptime guarantee.
From our experience, we noticed that our site hosted on Hostinger was rarely down. However, while Hostinger uptime is not low, it is not as high as some of the other competitors. If you want, you can check the uptime status as well.
The uptime rates also depend on your needs. If you're a beginner with a small website and less traffic, a slightly lower uptime or say 10-15 minutes of downtime per week will not affect you. But if you're the owner of a large business website, you should focus on the service that offers better uptime rates.
Already Optimized
All Hostinger plans run on Litespeed servers and include an all in one WordPress optimization plugin called LiteSpeed Cache for WordPress (LSCWP). This plugin includes all the site acceleration features such as caching, page optimization, image optimization, etc.
Many of the web hosts include lite speed servers only in their higher-priced plan, but with Hostinger you get these features for free even with the cheapest plan. So, you won't have to spend extra for optimization plugin .
Fast Loading Speed
Hostinger delivers quite impressive loading times for the price it comes for. The response time mentioned by Hostinger on their website is around 143 milliseconds, which is great.
However, we didn't want to go with their claim and ran a few tests.
To begin with, we tested how a default version with no extra plugins and themes performs. We hosted a test website and didn't change any settings, and didn't install and activated any additional themes and plugin. Here is the result.
Google page speed insight received a score of 99 for mobile test with loading time of 2.3s.
Google page speed insight received a score of 99 for desktop test with loading time of 0.5s.

Pingdom test showed a loading time of 325ms.
The truth is that most of us don't use the default version of WordPress. We will at least change the theme and add plugins. So, for a more realistic test, we changed the theme and activated more plugins.
Below are the changes we made
Changed the theme to Astra
Installed and activated Divi Plugin
Activated Jetpack plugin
Activated Akismet antispam
Implemented Google tag manager and Google analytics
Posted a blog post with 5 images
Here are the results after these changes.
Google page speed insight received a score of 85 for mobile test with loading time of 5.2s.

Google page speed insight received a score of 95 for desktop test with loading time of 0.5s.
Pingdom test showed a loading time of 782ms.
Now, keep in mind that the results would vary based on when these tests are taken, so we should not rely totally on one time result. Also, you can improve the results by changing the optimization settings.
But from our experience after running many tests, we can say that our website hosted on Hostinger loaded quite fast.
30-Day Money-back Guarantee
Another great thing about Hostinger is that it comes with a money-back guarantee. So, if you're not satisfied with the service, you can get your money back within 30 days of purchase.
While the 30-day money-back guarantee is quite standard in the web hosting industry, it is still a good way to try the service risk-free.
Live Customer Support
Customer support is one of the most important things to look for in a hosting service. In case your website experienced some technical issues and crashes, you will need someone to fix that problem as soon as possible otherwise your performance will suffer.
This is where reliable customer support comes into play. Hostinger offers excellent customer support. Their support staff is reliable, quick and is available 24*7. Their live chat support is very easy and quick.
We needed to reach out to support a few times via live chat, and we were always connected to someone in less than a minute. Our problem was either solved or we were directed to instructions on the website. The instructions provided by them were easy to follow and understand. Furthermore, the official website of Hostinger contains a lot of quality articles and guidance that you can take help from.
On the downside, they don't have 24*7 phone support. While live chat is a great option, some users might find it easier to talk to someone on the phone. So, it can be a bit inconvenient for these users.
Easy To Use Interface
Hostinger's interface is simple and easy to use. You'll get every information from its simple dashboard. It is great for beginners as it doesn't require any experience and technical knowledge.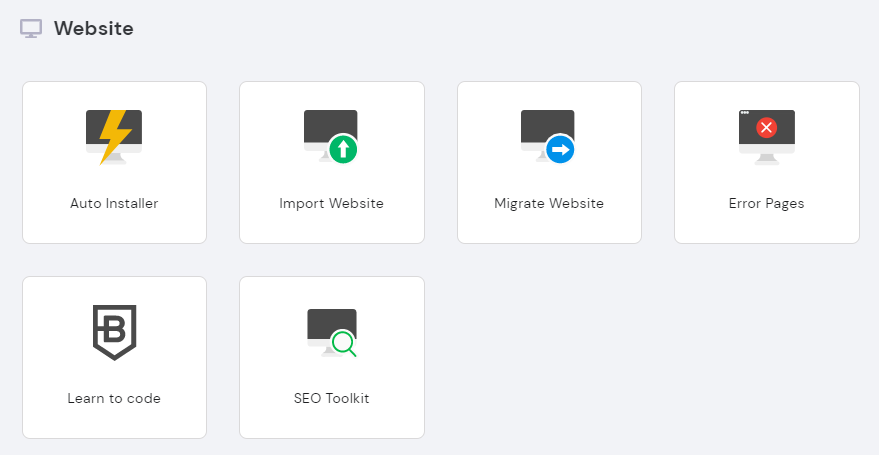 You can use it like any other software or mobile application by interacting with its well-designed icons. The dashboard also contains all the necessary applications like WordPress etc.
Moreover, managing your account and other settings is super easy. You can easily change your usernames, email address, domain and plan. You can also see your usage and other statics.
Unlimited Options
Hostinger is also known for its unlimited options that come with high tier plans. For instance, the Business and Premium shared hosting plans offer unlimited bandwidth, unlimited email accounts and unlimited MySQL databases. This is the reason we recommend purchasing its premium plans instead of entry-level plans. The entry-level plans of Hostinger are cheap but they offer limited features.
Pricing
Undoubtedly, Hostinger is one of the cheapest host providers out there. So, if you're looking for a cost-effective web hosting service, this web host is worth considering. But keep in mind, Hostinger's pricing is not as straightforward as it seems.
It's a bit tricky. You'll find that its basic shared hosting plan starts from just $0.99 per month which will cost you around $12 per year. But to lock this price, you'll have to sign a 48-month contract and apart from it, you'll have to pay for each additional feature you opt for such as daily backups.
Keep in mind that having a 48-month contract can be a good choice since you'll be able to lock in the highly discounted price for 4 years.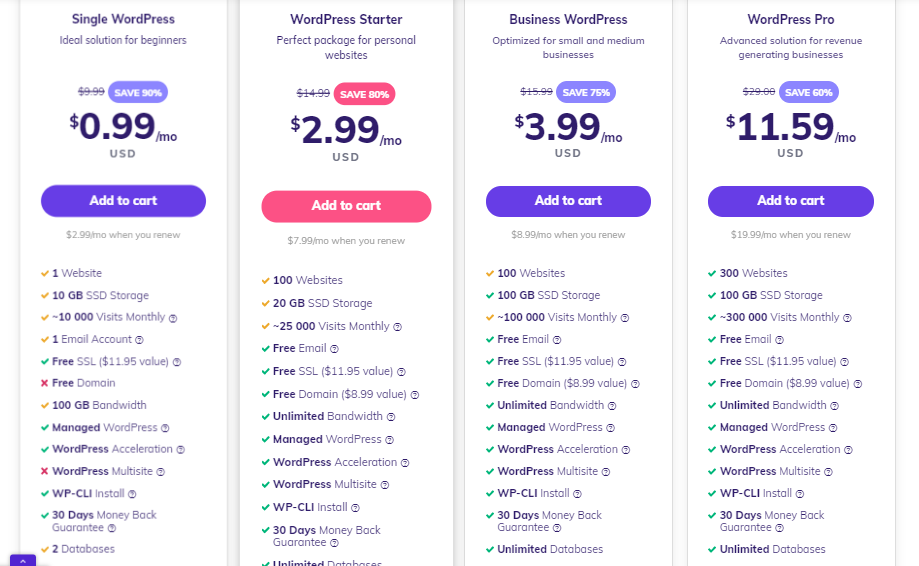 Other Considerations To Think About
There are a few trade-offs Hostinger comes with. Below are the things you should consider while purchasing the plans :
Log In To Access Support Services
We have already discussed that Hostinger's customer support is reliable and fast. However, live support is only accessible when you're logged in.
While this is not a big issue as such but it can be a problem in case you've locked out of your account and need to contact support.
Additional Domains, SSL and CDN Are Not Free
Hostinger offers free domain names, CDN and SSL based on the plan you choose. However, if you're thinking about hosting multiple websites with Hostinger, you might have to purchase the domain names, CDN and SSL separately. They aren't available for free. But on the positive note, the domain names are pretty affordable here. The starting price for domains is as cheap as $0.99 per year. But for premium ".com" domain is priced at higher rates, around $8.99 per year. You should be able to activate CDN and SSL with a small fee as well.
There Is No cPanel
We have discussed that the user interface of Hostinger is very simple and easy to use. But know that, there is no cPanel. Generally, cPanel is a standard component in web hosting. While the hPanel doesn't offer any inconvenience to the users, it can be a little frustrating for the ones who are habitual of using the standard cPanel.
But again, if you're a beginner with no previous web hosting experience, you'll find Hostinger's hPanel easier to use.
Pricing Exceptions
As we mentioned above, you'll get a 30-day money-back guarantee with Hostinger. While there is no doubt in that, there are some pricing exceptions you should know. The below-mentioned products aren't available for refund under the money-back policy:
SEO toolkit
Domain name renewal
Redemption feeds
G Suite
Privacy Protection
Hostinger Pros And Cons
These features can be a lot to take in. So, lets summarize the pros and cons.
Pros
Easy to use interface
Cost-effective shared and VPS hosting
Inbuilt WordPress optimization features
Good Uptime and loading speed
Simple cPanel-like site manager
Great for beginners
Suitable for small WordPress sites
Reliable customer support
Comes with a money-back guarantee
Cons
Entry-level plans offer only limited features
Premium features and add-ons are available with premium plans
Uptime is as high as some of its top competitors
Final verdict: Is Hostinger Worth Considering?
Hostinger offers decent shared and VPS hosting for the price. It has some really interesting features that make it worth considering. Although the base plans come with some limits, they still work fine for new users. Also, if you can extend your budget a little bit, the premium plans offer great value for money and are very impressive as well.
Overall, if you are on a tight budget but still don't want to compromise on reliability and performance, Hostinger is a great choice to host your WordPress website.