Due to the ever-growing competition in the online marketing world, you need to be on top of your game if you want to stand out. And SEO is one of the main things that will make you get noticed by your audience.
SEO is a critical aspect of the success of any online business. You may have a great website, but if it is not optimized for search engines and the target audience, it will not reach its full potential.
To ensure your website is optimized fully for search engines, you should conduct a thorough technical SEO audit. This exercise will reveal all the underlying issues with your website and reveals what needs to be done to improve your ranking. Although a technical SEO audit may seem time-consuming and difficult, it can be done easily in a short amount of time if you use software like SEMrush, and that's what we are going to talk about in this post.
But before we discuss how to do a technical SEO audit, let's talk about what a technical SEO audit entails.
What Is a Technical SEO Audit?
You should ensure that your web pages and content rank high in search engine result pages. The days of backlinking from PBNs and keyword stuffing are far gone. That's why you should focus on white hat SEO techniques.
A technical SEO audit involves checking the technical aspects of your website's SEO. Basically, you will be checking the health of your website and what fixes it needs to rank higher.
When search engine bots crawl your web pages, they analyze several ranking factors before deciding where the pages will rank on SERPs. That's why you should assess these factors if you want to rank higher and not lose traffic, and this is where a technical SEO audit comes into play.
Let's now get to the business of the day.
How Does SEMrush Technical Site Audit Work?
SEMrush site audit can check over 120 website issues making it one of the easiest, and most effective ways to doon a technical SEO audit on your site. Here are two main issues it can identify:
1. Crawlability and architecture
You should make your site structure clean and straightforward. Some of the areas it focuses on are sitemap, internal links, URL structure, and ronbots.txt files. You will find information on how to fix common issues discovered in this area.
2. Technical SEO issues
The technical aspect of your site has a great impact on your site ranking. A site audit will check issues relating to page load speed, mobile optimization, proper HTML, and much more. You will know the pages with slow load speeds and oversized HTML. It also points out the use of outdated technology, frames, and flash that you should avoid.
How to Do Technical SEO Audit Using SEMrush
Prepare the tool to audit your site
Step 1- Go to SEMrush Site Audit tool
To get started with a site audit, go to SEMrush Site Audit tool.
If you are already logged into SEMrush, select SEO tools from the drop-down and click on Site Audit. After that, enter your domain and start the audit.
Step 2 – Select the crawl source
This determines how you want the SEMrush site audit bot to crawl your website and find web pages to audit. You can set parameters and options on what to include and exclude from the audit. In this case, we select Website as the crawl source option. This way, SEMrush crawls your site just like GoogleBot.
Make sure to limit the number of checked pages. You should choose this limit wisely as it depends on your subscription level and how often you plan on auditing your website. However, for the first run, it is best to go with the maximum allowed limit to find all possible issues.
Step 3 – Choose crawler settings
You can choose the bot to crawl your website. We will go with GoogleBot-Mobile. This way, your audit's user agent will be the mobile version of GoogleBot, since Google prefers sites' mobile versions for indexing these days.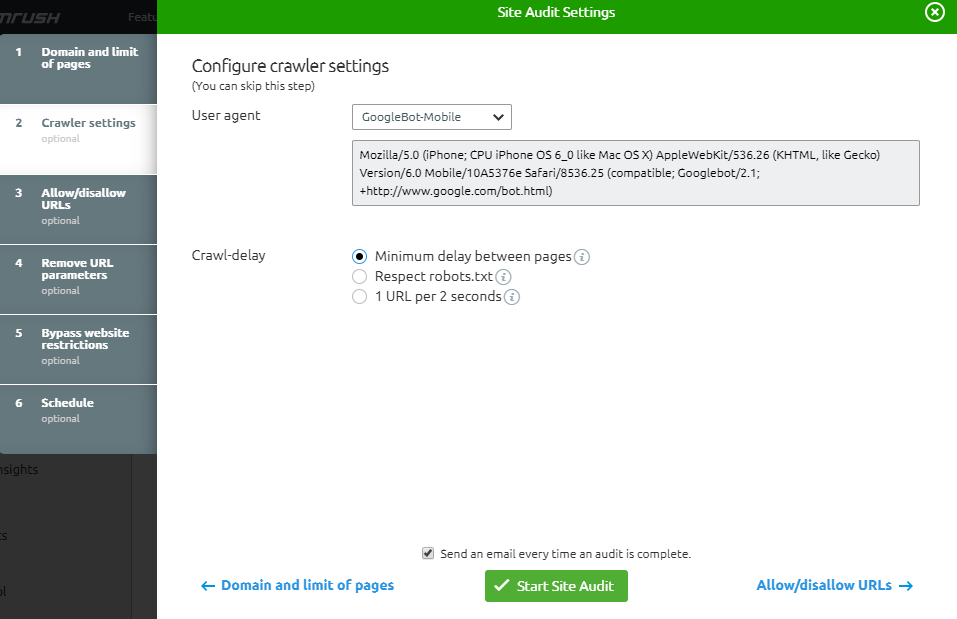 Step 4 – Allow/Disallow URLs
This option allows you to choose subfolders of your website that you want to crawl or block. For the first run, leave this setting blank. We can filter specific URLs (e.g. Category URL) in subsequent runs.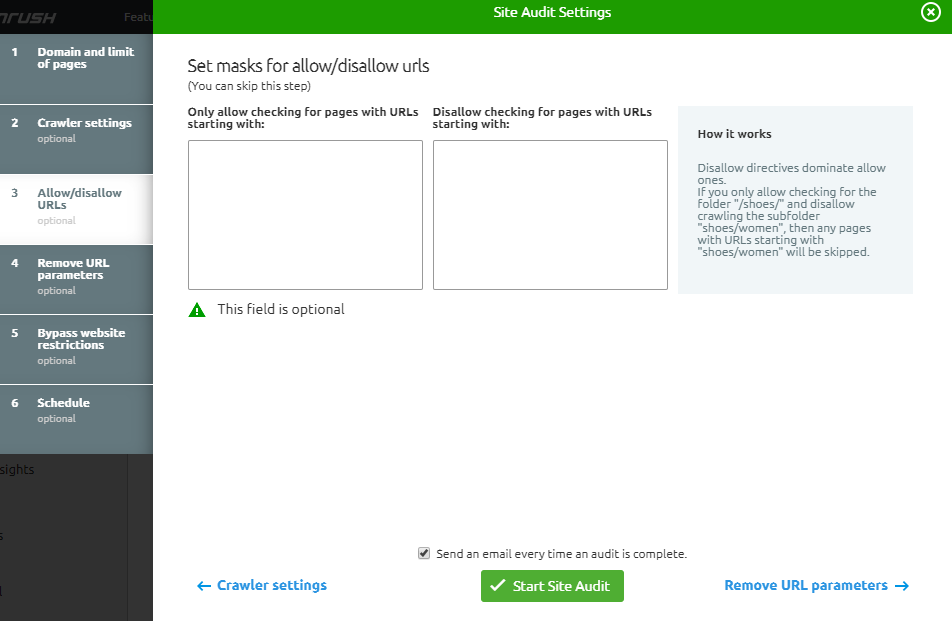 Step 5 – Remove URL parameters
URL parameters are the elements added to a URL to give it a hierarchical path structure. They are meant to show web page structure. For instance, "?page=4" is an URL parameter that indicates 3rd page of a URL. Some people specify URL parameters on a website to avoid SEMrush from crawling the same page twice, but we recommend that you leave it blank at least for the first run.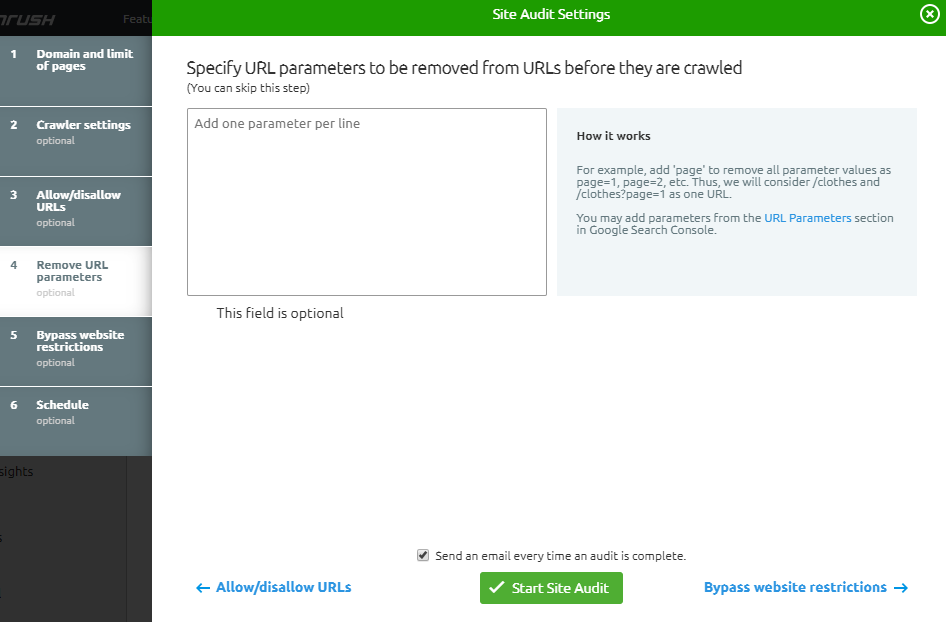 Step 5 – Bypass website restrictions
There are two options you will find in this step: choose Bypass to disallow in robots.txt and crawl with credentials. It is best to mimic Google crawling, so we can leave these settings to "No."
Step 6 – Schedule the audit
This is meant to let you automatically indicate when you want SEMrush to audit your site. For us, we prefer the weekly schedule option.
After filling out all these settings, click "Start Site Audit."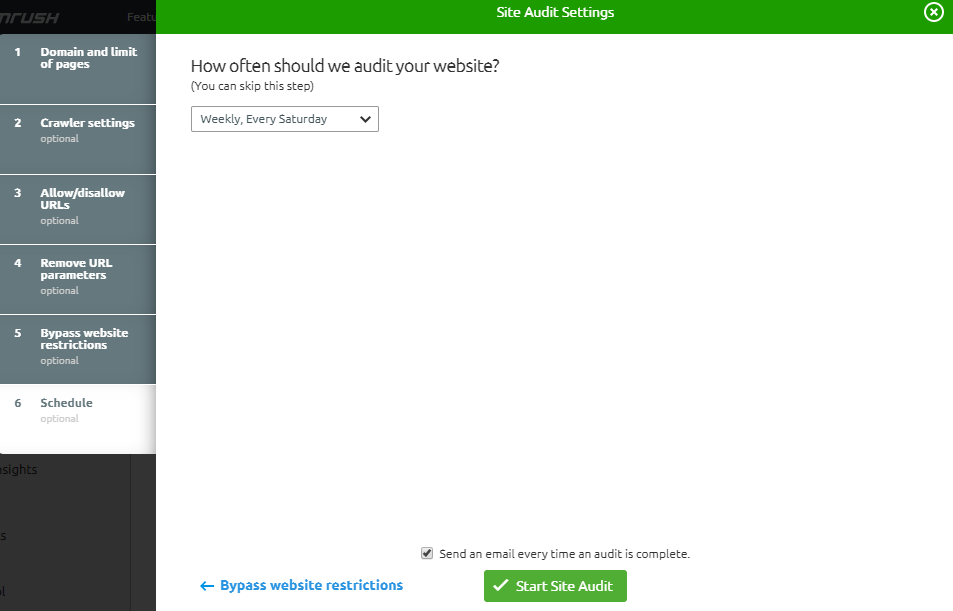 The audit will generate actionable audit reports to help you improve the SEO health of your website.
Generate reports and take actions
The Site Audit Issues Report outlines all the issues on your domain that were found by the SEMrush crawler. You can also check errors, warnings, and notices by clicking on the corresponding tab.
Keep in mind that:
Errors are the most critical issues on your site, and thus should be fixed first. They weigh more heavily on your site health than warnings and thus fixing them first will boost your site health considerably.
Warnings are 2nd in terms of weight on your site's health, and thus should be fixed after errors.
Notices are less severe and contain information that you may find helpful. They do not impact your overall site health score.
Step 7 – Check technical SEO overview and overall health
Based on how many errors and warnings your site has, the tool assigns a site health score. Start looking at errors first since these are serious issues, and then review warnings.
Step 8 – Review technical issues and warnings
Click on the "Issues" tab to review specific issues and warnings.
Keep in mind that not all of the warnings need to be fixed. For example, the tool will warn you if you have internal links with nofollow attributes because it's an SEO best practice to pass link juice to internal links and hence you should have them as dofollow. But in our case, we have some sharing links we don't want the search engines to follow.
In these scenarios, you can hide the issue and it will be ignored in the next run. However use this setting with caution since if you hide the issue here, the tool will ignore all of the future issues also of this type (e.g. internal links with nofollow) in the site audit. If you want specific instances of the issue ignored, there is a better way to do that which we will go thru in the next step.
If you are not clear about any issue, click on "why and how to fix it" and you can see what this issue means and how to fix it.
Step 9 – Find details on an issue
From the Issues tab, click on an issue (e.g. 2 external links are a broker), to check specific pages and detailed information about this issue. Here you can find all the information required to fix this issue.
If you find anything that is not really an issue for your site (e.g. nofollow on specific internal links), you can hide it from the site audit. These specific line items will then be ignored from future site audits.
Step 10 – Check technical SEO Stats
Click on the statistics tab to check key stats about your site. This step will generate key insights into high-level architectural issues of your site. For example, we know that it's best to have a low crawl depth to ensure search engines have to work less to crawl all pages on your site. You can see what % of pages need less than 3, 2, or 1 clicks.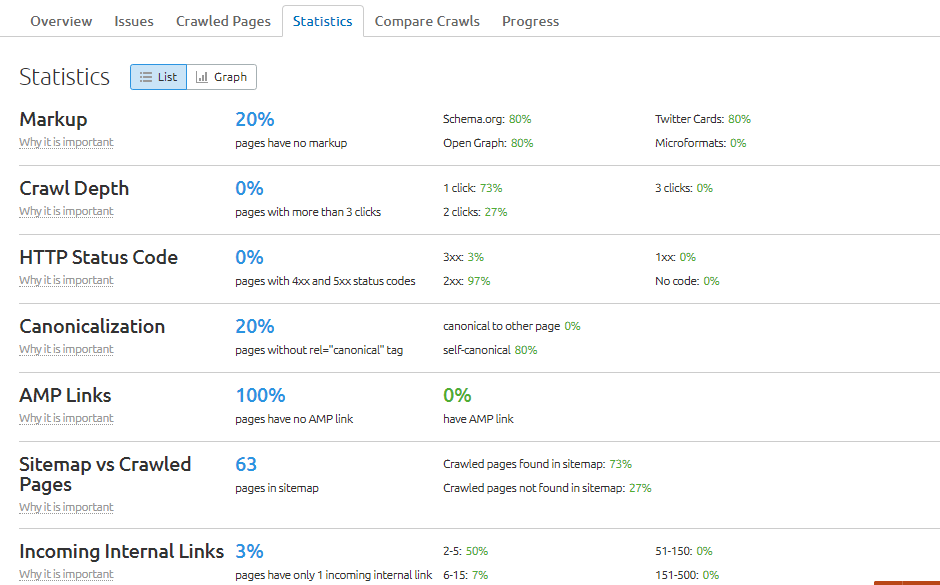 Monitor Site's SEO health regularly
That's it. Rerun or check the scheduled reports regularly to ensure that the site's technical SEO health remains strong.
Bottom Line
As you can see, there are many errors technical SEO audits by SEMrush can reveal. The best thing is that you are guided on how to fix all the errors your web pages have.