Google makes hundreds of changes to search each year. In 2018 alone, Google reported an incredible 3234 algorithm updates.
If you rely on SEO, these changes impact you. That's why you need to have a system in place to monitor these impacts, so you can keep your site SEO optimized.
With changing Google algorithms, conventional tactics for improving your website's keyword rankings aren't as easy as they used to be earlier. Furthermore, not every website is the same. So, implementing a certain strategy won't guarantee you results for your website. In fact, it can have a negative impact on your website.
That's why it is important to track your keywords rankings in search engines, so you know what's working and what isn't and take action.
But how do you track keyword rankings? If you aren't sure about keyword ranking or how to approach it in the best way possible, you have come to the right place. This article highlights how to track keyword rankings, and monitor the SEO performance of your website by using SEMrush.
What Exactly is Keyword Rank Tracking?
Keyword tracking is a way of monitoring your website's web page rankings in Google search results. Here you can see the most important keywords for your web pages. Google shares some of this valuable data free of cost in the "Search Console". However, there are other tools such as SEMrush that provide more detailed information.
SEMrush allows you to track the daily rankings of your web pages for a specific set of targeted keywords. You can set the tracking to a specific geographic location and type of device being used.
You can use a desktop, tablet, or smartphone to find the rankings. The tool has many other features such as filtering, sorting, tagging, and exporting reports. This way, it makes it easy for people to find out the SEO performance of their website.
How to Track Keyword Rankings Using SEMrush?
Log in or sign up for a SEMrush account.
Then, go to "Content Marketing Toolkit" from the drop-down and select the "Position Tracking" tool.
Select domain or URL – You can choose the whole domain to track all pages or go with a specific URL to track a particular webpage. We will go with a domain (e.g. digitalpurview.com) in this example.
Select search engine – You can choose Google or Baidu. We will go with Google.
Select device – You can choose desktop, tablet, or mobile. You should choose this setting based on what kind of audience you want to optimize for. We will go with mobile in this case.
Select location – You can choose a location (e.g. California). The tool will track keyword ranking for this specific location.
Add keywords you want to track – You have the option of getting keywords from SEMrush or google analytics. We will go with manual in this case since it allows us to track relevant and targeted keywords.
Add tags – You can also add tags for reporting. We will leave tags blank in this example. But if you have a huge list of keywords, tags will help in reporting.
Start Tracking – Click on "Start Tracking". The tool will track your rankings for selected keywords every day.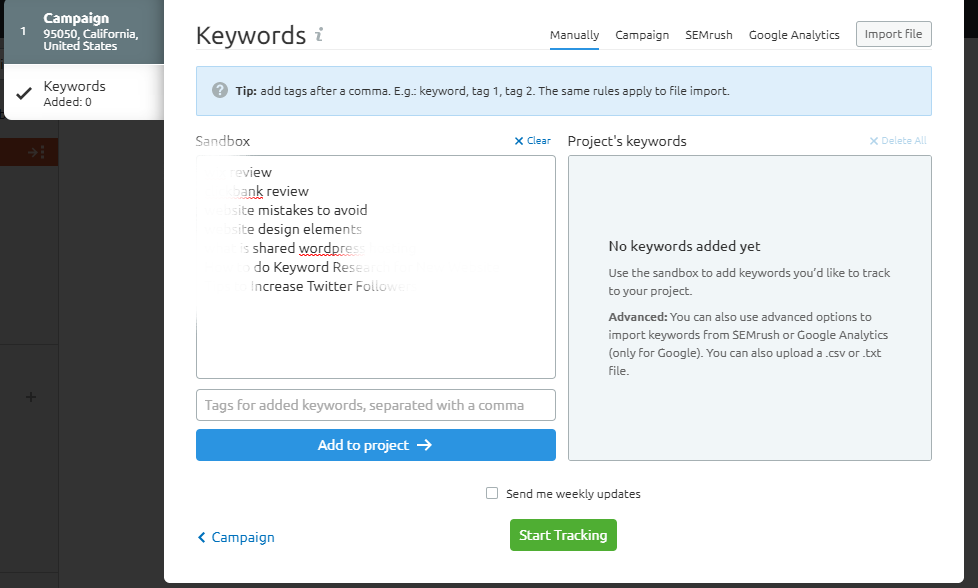 Click on the "Rankings" tab – This report will check the ranking of keywords. If you come back after a day, you can also see if there was an improvement or decline in ranking and take action.
Conclusion
With the help of SEMrush, you can keep track of keywords that have high search volume and relevance to the content on your website. As you implement SEO strategies on your website, tracking SEO rank is a great way to check if these strategies are working for you. So, you can decide to continue with what is working and to stop what is not working.