Staying on top of your SEO is vital if you want to get noticed in the vast online world. Competition has never been greater but with some simple applications, you will easily be able to monitor your brand, therefore improving its SEO and boosting the brand to new heights.
One excellent way of monitoring your brand is by using the highly effective SEMrush brand monitoring tool. In this article, we are going to show you how simple and quick it is. Our step-by-step guide will take you through the process, giving you all the knowledge you will need to get started.
We will also be taking a look at how using this process can boost your brand and improve its reputation.
How to Use Brand Monitoring Tool by SEMrush?
Using anything new can be a little intimidating but with these easy-to-follow steps, you will have to monitor your brand down to a T in no time at all. Let's get started.
Step One
Head over to the SEMrush website and sign in or sign up for an account.
You then need to navigate your way to the "Content Marketing ToolKit" drop-down and then select the "Brand Monitoring" tool.
Step Two
You now need to enter your domain name and the URL of your website. You can also enter a keyword here if you choose, make sure that it is relevant to your brand. Now click on the green 'setup' button which is located on the left-hand side of the text boxes you have just used.
Step Three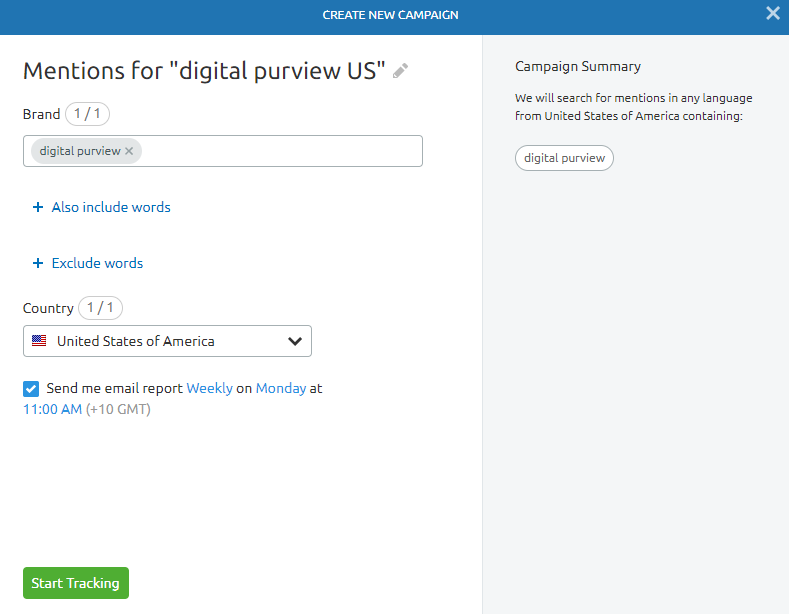 You will be asked to select your country from a drop-down menu, in order to provide more relevant data after which you will be taken to your tracking screen, where you will be able to view all the information surrounding brand monitoring, completely personalized to your brand. On your dashboard here, you will be able to edit your keywords or add new ones so that you can see a variety of data relating to each one.
What Information About Your Brand Will You Get?
One of the most notable things about the SEMrush brand monitoring tool is the sheer amount of information that you will have access to. Even with the free plan, information is far from limited.
The brand monitoring tool generates a wealth of different snippets of data to help you stay on top of tracking your brand, let's delve a little deeper into these.
Brand Popularity
The tool will show you how many times your keyword or brand is being mentioned across the internet. This is extremely useful for giving you an insight into the popularity of your brand and allows you to gain a greater understanding of its impact on your audience.
Brand Sentiment
One of the best features of the brand monitoring tool from SEMrush is that not only will to allow you to track the number of mentions but also provides you with information on the quality of the mentions. For example, it will detail whether any particular mention was positive, negative or neutral. Why is this important? It gives you the opportunity to monitor any areas of your brand that are thriving, allowing you to continue down the same path but it also gives you the chance to explore new tactics to appease any negative comments that have been made. This kind of feedback is invaluable to any brand wanting to succeed.
Estimated Reach
You will be able to see an estimated reach of mentions on your dashboard, which is very useful when it comes to understanding how big of an audience your brand is reaching. This will allow you to create campaigns to spread the word even further and monitor whether it has worked.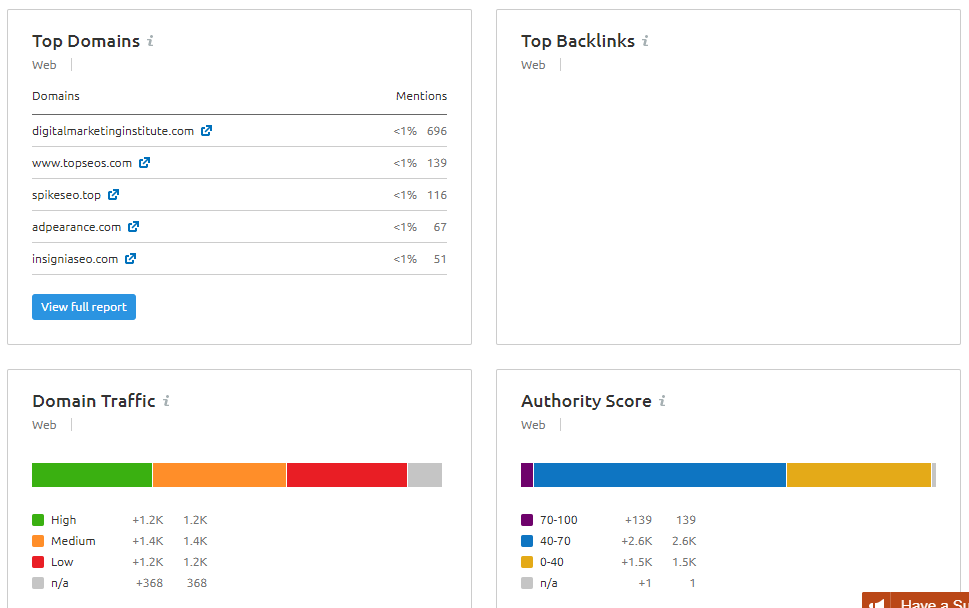 Traffic Information
Your domains will be monitored giving you information on their popularity as well as information on the traffic being directed to them. Having a good understanding of your traffic can greatly assist you in any campaigns to grow your audience and raise brand awareness and so this is a very valuable aspect of the brand monitoring tool.
Website Information
Under the mentions tab, you will see a great deal of information about where your brand is being mentioned. You will be able to see the specific website and date on which the mention was made, making it easy and clear to see where you are having an impact. This data proves very handy in allowing you to promote the brand in the right places.
Campaign Data
The brand monitoring tool also allows you to run multiple campaigns and compare these against one another, giving you even more insight into the performance of each one.
Daily Updates
Another great advantage of this tool is that you get daily updates so the information you are seeing is always completely up-to-date and relevant.
Social Media Monitoring
One of the most important parts of any brand marketing is the presence of the brand on social media, it doesn't matter whether the posts come from the brand itself or whether the brand gets a mention somewhere else, it's all publicity. But staying on top of your brand on social media can be massively overwhelming. That's where the SEMrush brand monitoring tool really comes into its own.
The tool gives you the opportunity to make use of additional Instagram and Twitter feeds as a way of monitoring mentions in any tweets or comments.
What are the Benefits of Online Brand Monitoring?
We have already discussed that monitoring your brand mentions can allow you to build on your marketing campaigns and work on areas that are struggling. However, there are even more benefits to using the brand monitoring tool. Here are just some of them:
Look at potential links
The use of visual graphs makes the entire process easy to understand
Can be integrated with Google Analytics
Your mentioned feed can be filtered, tagged or labelled to help you access the information you need more quickly
Easy PR management
Improve the reputation of your brand
Conclusion
The brand monitoring tool from SEMrush is ideal for any brands that are looking to track their online mentions and performance. The tool gives users a clear and practical insight into how often the brand is mentioned, where and how as well as provides a wealth of information on the reach of the mentions and whether they are good or bad.
Getting started couldn't be more simple, with a few easy steps leading you to a detailed yet concise dashboard that displays all the information surrounding your campaign.