A website is an essential tool for any business that wants to thrive these days. But it isn't a simple case of just having an active website. It has to run efficiently and effectively in order to attract and keep the interest of potential customers in your target audience.
Choosing the right web host can be a challenge, as the process is filled with pitfalls and dangers, jargon and acronyms. Having picked one, you need to be sure that the Content Management Service (CMS) they use is going to work for you. Without a doubt, WordPress is the most trusted and popular CMS out there, powering about 35% of websites around the world.
However, some of WordPress's effectiveness lies in the way it interacts with the web host used. The quality of your web hosting provider will have an impact on your site's performance, WordPress features, and overall user experience as a webmaster.
To help you make the right choice, we've created a review of the 6 best WordPress hosting sites to choose from. All these web hosts have been chosen based on WordPress-optimized service and support, high reliability of almost 100% uptime and great page loading speed of less than 1 second.
1. HostGator Review
HostGator is one of the biggest hosting companies in the world with 8 million hosting domains. They're well known for their reliable hosting and wide range of services. But just how does their WordPress hosting compare to their standard services? Let's take a look.
HostGator's plans come with a free SSL certificate. Depending on the plan you get, you'll also get a dedicated IP, positive SSL for one domain, and free SEO tools to help you with your search engine campaigns. You also get unlimited email accounts with all the plans. The plans also come with an instant backup which is also helpful. Overall, they have great FTP, web hosting compatibility, and eCommerce support.
Customer support is one of HostGator's strengths. You can call in, get on live chat, or email to get in touch with their staff. Best of all, they are available 24/7 across all channels. The staff is trained well and will be able to resolve all your general and technical problems.
Pricing starts at $2.75 a month for the hatchling plan, $3.95 a month for the baby plan, and $5.95 a month for the business plan. You can lock in the rate for 3 years term. They also offer a 45-day money-back guarantee if you are not satisfied.
2. BlueHost Review
Bluehost has been one of the most well-known hosting companies for a long time and has over 2 million websites hosted with them. It is one of the three officially recommended hosting by WordPress.org. The company offers one of the lowest prices for their WordPress hosting service at $2.75 for the basic plan. But is it one of the best WordPress hosting sites you can go with? Let's break the service down into multiple components.
Your subscription comes with many helpful features. Bluehost offers a free domain for one year and a free SSL certificate with every plan. Bluehost hosting plans also include free CDN and Caching to keep your site optimized. You can install WordPress with a few clicks, automatically update your WordPress, and test designs before launching in their custom staging environment. They also throw in many themes to help you with your site.
Support is another important part of web hosting. The company offers many different channels from live chat, phone calls, email support, and a knowledge base. Overall, the support department is very responsive and helpful. They know how to help you with general and technical issues.
Pricing is a big selling point. The basic plan starts at $2.95 a month, the plus at $5.45 a month, and the choice plus at $5.45 a month. The plans mainly differ on the number of websites you can host and the storage you can hold. Keep in mind that the plans represent an annual rate, which is also a good thing since you can lock in a heavily discounted rate for the long term. The company offers a 30-day money-back guarantee if you're not satisfied.
3. DreamHost Review
DreamHost is another popular choice for WordPress hosting. It is also one of the three recommended sites by WordPress.org. The company is also known for its attractive price plans. As a matter of fact, it has the lowest pricing out of the five WordPress hosting companies on this list. But before covering that, let's look at how their service stands out.
The company offers many features as part of your subscription. You get a free domain name for one year, free SSL, free privacy protection, automated update and automated backups. An automated backup feature isn't something offered by every web host, so it's definitely a nice bonus. All plans come with free CDN and caching to optimize your website for speed. The company also has its own WordPress site builder which will come in handy for those who don't want to purchase premium builders. Many apps including WordPress can be installed in a single click with their interface.
The company offers many support options. The list includes live chat, email, and a knowledge base. The downside to their support is the fact that phone support is not included and live chat support is not 24/7. This means that you need to get in touch with them at the right hours (5:30 AM–9:30 PM PT). Despite that, response time is fast and the support department is helpful.
As mentioned earlier, they offer the lowest rates at $2.59 a month for their starter plans and $5.95 a month for the unlimited plans. The big selling point is the fact that you can get this rate as a three-year plan and even after that, the price increase is much lower than other providers. Other companies offer competitive rates for the first year and raise the price 2 to 3 times after the introductory rate. DreamHost offers a 97-day money-back guarantee which is the highest among all the hosting providers in this list.
4. A2 Hosting Review
A2 Hosting is another great choice for WordPress hosting. They are known for very fast page load speeds which is a big plus if you plan on running an eCommerce WordPress site. There are also many unique features that A2 Hosting offers that its competitors do not offer.
All A2 Hosting plans offer free SSL, free CDN, a staging environment and pre-installed WordPress. There are also several unique features offered by A2 Hosting. The first is that you get to choose your data centre for optimal service geared towards your target audience. In addition, you get free site migration for a smooth transfer. Depending on the plan, you can get automated backups of your sites. The company even offers a performance-plus feature where your performance remains constant during big traffic spikes. This is great for promotions where you see big jumps in traffic at once.
The company offers 24/7 support via email, phone, and live chat. They are well trained as expected. However, response time can be slower than the other hosting companies that offer 24/7 support.
A2 Hosting Pricing is higher than major companies' pricing. But you do get what you pay for. The basic plan is $2.99 a month. The Drive plan is $4.99 a month. The Turbo plan is $9.99 a month. The Drive plan is good value due to unlimited email accounts, websites, and storage. The Turbo plan is for those who want faster performance. Overall, this is a great host if you are looking for extra performance and features. A2 Hosting offers a 30-day money-back guarantee and even after that, you can cancel at any time for a prorated refund using their any-time money-back guarantee.
5. Hostinger Review
Hostinger is the cheapest WordPress host on this list. The good news is that cheap doesn't mean low quality. That's the reason 29 million users trust them to host their websites.
They offer all the key features required to host a WordPress website. This includes free SSL, free email account, free lightspeed server and caching, 1 click WordPress installation, automated updates of WordPress and plugins, and automated weekly backups. Based on the plan selected, you can also get free CDN and automated daily backups.
Their 24/7 support is available through email and live chat. The response is quite quick and you can usually be connected instantly via chat.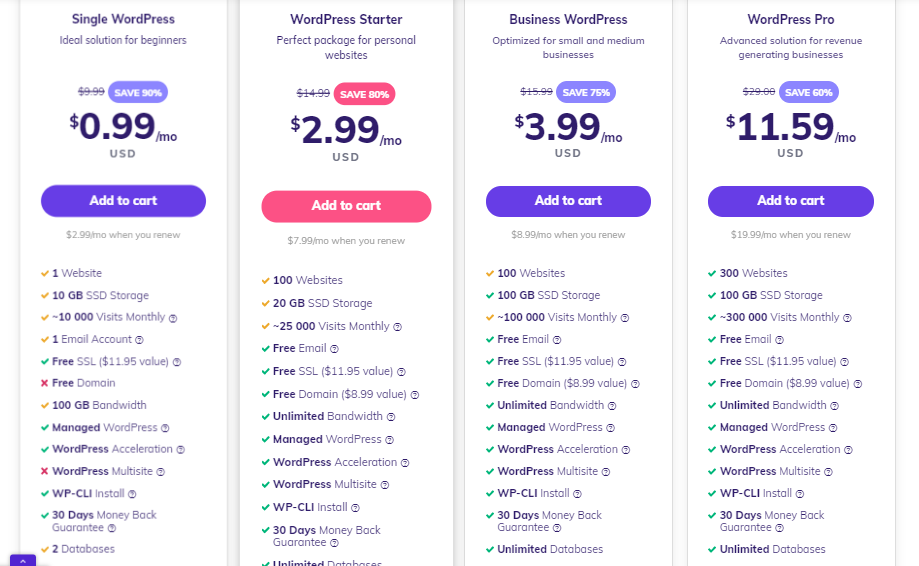 The pricing starts at 0.99$ to host a single website. You get free CDN and daily backups with the Business WordPress plan, so this is the plan you should look for if you plan to update the site daily. The discounted price is for a four-year subscription. They do offer a 30-day money-back guarantee. All in all, it's a great service if you are on a tight budget.
6. GreenGeeks Review
GreenGeeks is a very unique service provider on the list. As its name suggests, the company focuses on offering a green service. Hosting is known to have a very large carbon footprint. GreenGeeks is one of the many newer-generation hosting companies that aims to be carbon-neutral while offering a great hosting service to customers.
They offer many tools to help WordPress users. This includes a free domain for the first year, free SSL, 1-Click WordPress installation, free migration, automated backups, caching technology for better user experience, and optimized page loading tools. You also get advanced security, automated daily backups, and a free Cloudflare CDN service. The subscription also comes with many themes to help you start building your WordPress site.
Their support is available through email, phone, and live chat. Support is available 24/7 via live chat. However, phone and email have limited time windows. Email response is pretty quick, averaging 15 to 20 minutes.
Pricing starts at $2.95 a month for the lite plan. The pro plan is $5.95 a month and the premium is $11.95 a month. The pro and premium plans offer improved performance for your websites. The discounted price is for a three-year subscription. They do offer a 30-day money-back guarantee. It's a great service for those that are environmentally conscious.
Conclusion
Overall, there are many subtle differences among these WordPress hosting services. It really comes down to how much you want to pay long-term, what features you want, and what kind of performance you need. Take a second look through the review to get an idea of what's unique to each web host so that you can make an informed choice for your WordPress hosting.