Every year, Google makes modifications to its algorithm to improve the experience of its users. This is one of the reasons every business has to stay on its toes so as to keep ranking higher.
However, the only thing that has remained fairly consistent is technical SEO. Things like mobile responsiveness, faster loading speed, and better site structure will never change. There is no day Google will say it has accepted slow loading speed.
To help you better understand technical SEO, we have compiled a checklist of the factors that comprise technical SEO.
But before we talk about the technical SEO factors, let's define what it is.
What is Technical SEO?
Technical SEO refers to the process of optimizing your site for crawling and indexing by search engine bots. It is called 'technical' because it doesn't deal with the actual content of your website or promotions.
This aspect of SEO deals with optimizing the infrastructure of a website. In other words, technical SEO is the backbone or foundation of a website.
With this in mind, let's now dive into the elements that make up technical SEO.
5 Technical SEO Factors for Better Google Ranking
1. Mobile Responsiveness
One of the changes effected by Google in 2015 was on the need to make websites mobile-friendly. The 'Mobilegeddon' update increased the importance of mobile-friendliness and made it mandatory for websites to be mobile-friendly if they want to rank higher.
You should use a responsive design. This is the best option in most cases. A responsive design expands and shrinks your web page as per your visitor's device.
You can also use separate URLs for your mobile and desktop visitors. However, this is an old-school method of solving this problem as it forces website owners to run two versions of each web page.
All these are ways you can make your website mobile responsive. If you don't know whether your website is mobile-responsive or not, you should test it using a mobile-friendly test tool and see the web pages you need to optimize.
Further Read: Wix vs WordPress – Side by Side Comparison
2. Site Architecture
Google sends its bots or search spiders to virtually all websites on a regular basis to crawl and index new web pages. However, these spiders need help to know new and updated pages on your website.
And this is where simple and well-laid out site structure and architecture comes in play. You should have a simple and clear site structure if you want your pages to get crawled and indexed fast. This simple rule has never changed, and it is important that you work on it.
There are four main components of site structure you should work on to help bots in the crawling task.
i. HTTPS
The right website structure starts by having an appropriate HTTPS or Hypertext Transfer Protocol. The only SEO-friendly way to do this is to use a secure protocol. This is because Google announced in 2014 that it had added HTTPS as one of its ranking factors. This is a rare event since most of Google's ranking algorithms have been kept secret, and all the factors listed online are assumptions, although backed by facts.
Therefore, having your website on the secure HTTPS:// will enable you to rank better. HTTPS also adds some form of protection and security to your website and brings other benefits that relate to site analytics too.
ii. Breadcrumbs
A breadcrumb is a type of navigation that shows the location of a user on your website. The name came from Hansel and Gretel fairy tale, whereby they left breadcrumbs on their way into the woods in order to be able to locate their way back. Breadcrumbs present your website hierarchy and indicate where your visitor is. This minimizes the number of actions a visitor has to take if they need to go back to different sections of your site.
If your website has a comprehensive hierarchy and different sections that call for a clear structure, you need breadcrumbs. These are also recommended for eCom websites with different products. However, they should not replace primary navigation guided by your internal page linking.
iii. URL structure
A savvy site structure should have a user-friendly and consistent URL structure. The URLs describe the pages for both search engines and users. Therefore, make them brief and descriptive. Ideally, a user should understand your page content based on its URL. You can add the primary keyword to the URL to strengthen the relevancy of your pages and help search engines understand your web pages better. What's more, you should separate words in your URLs with hyphens.
iv. Silo content
'Siloing' content means defining the hierarchy of pages on your website. In other words, it is how your pages interlink. Internal links help to improve your website visibility by linking newer posts with older ones. You need to categorize your web pages and always ensure the pages within one category are linked. This ensures your user can navigate from one resource on your site to another without having to take many actions. Internal links help to pass SEO juice to all the connected pages on your website.
3. Website Speed
Have you ever visited a site only to find out that pages take too long to load? What happened next? Most likely, you left it and visited another similar site with better load speed.
This is what happens when your web pages fail to load fast. In fact, over 40% of web users have abandoned a web page because it has a slow loading time.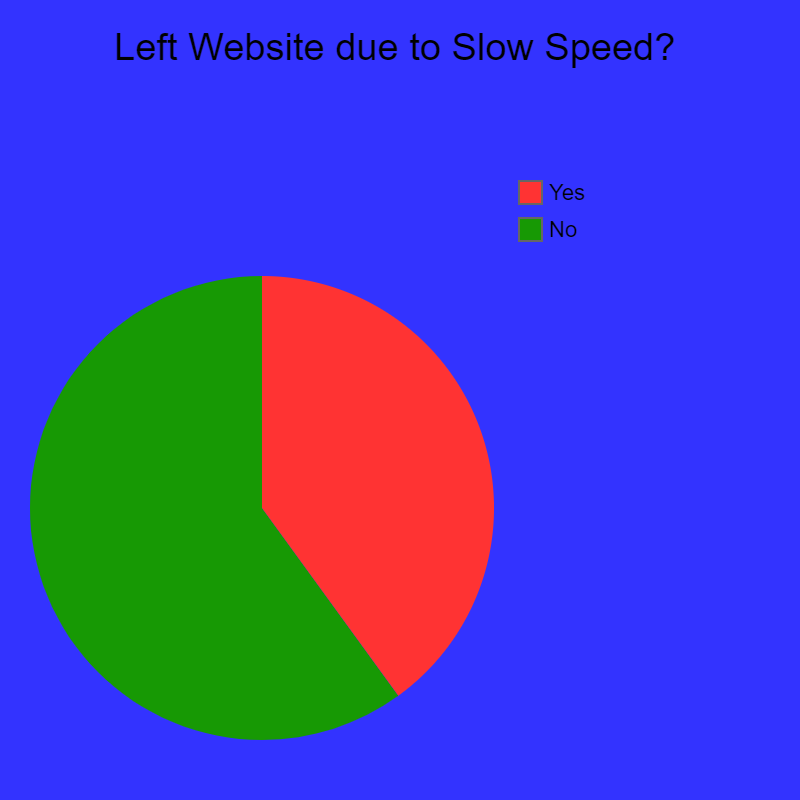 There are a few reasons why you should increase your site load speed.
Users are more likely to leave your website if it takes more than 3 seconds to load on mobile
Google uses page load speed as one of the factors when determining how high a website can rank
If users are abandoning your web pages within a short time after clicking them, then this counts as bounce rate. Again, Google uses bounce rate as one of its ranking factors.
You can increase your web page loading speed in a variety of ways. One of the major culprits of slow speeds is uncompressed images and rich files that take long to load. By compressing large images and optimizing rich files, you can increase your site's load time in a drastic manner.
You can also use browser caching, decreasing HTTP requests, and removing unused files and scripts to boost your page's ranking.
Also, keep your templates simple. You should limit the elements on your website and simplify templates. Some of the design elements you can reduce include widgets, tracking codes, and plugins. Only use those that should be used. In the case of designs, you need to remember that less is more.
The more elements your page has, the more time it will take to load, which means your users will wait longer. And you better keep this time under three seconds.
Further Read: 5 Best WordPress Hosting Sites Compared
4. Structured data markup
Another technical SEO factor worth a mention is structure data- rich snippets. Of course, Google can identify and understand your web pages based on their content and on-page SEO, but having rich snippets help search engines a ton.
With rich snippets, it means rich results. These are Google search results with additional data that accompanies them, including reviews, events, ratings, or recipes. They are pulled from structured data in your page's HTML.
You can add rich snippets to your site by adding a schema.org plugin to your CMS. Although these rich snippets may not boost your ranking directly, they do so in an indirect way as they increase the click-through rate.
5. Duplicate Content Issues
Technical SEO also tackles website errors, and duplicate content is one of the errors you should avoid. To remind you something, one of Google's most famous algorithm update is called the Panda update. It came into existence in 2011 and targeted duplicate content issues and low-quality content.
Google constantly checks for quality of content and always punishes spammy-looking websites with thin and duplicate content.
Google bots are now becoming better and more intelligent at detecting duplicate content. If you get caught, you end up getting punished by either losing traffic or being hit by a low ranking.
You can easily find duplicate content by using Google Search Console or Siteliner. These two tools will find any duplicate content on your site and its percentage.
If you find duplicate content, you can choose to delete it or rewrite it to reduce the percentage of duplicate content. You can also add canonical URLs to pages with duplicate content. The canonical link tells search engines that the source of the published content resolves the problem in a better way.
Bottom Line
Technical SEO is a wide topic. It covers a wide range of subjects concerning the elements you need to optimize and required by search engines. We have covered the main factors of technical SEO that you need keep in mind while designing your website.