Digital content is one of the easiest ways to reach a global audience. So, businesses should jump on this bandwagon by creating engaging, informative, and entertaining content.
However, to get this material out to the wider audience, effective SEO strategies must be in place meaning that particular attention should be paid during the creation process. Whether this is a blog post, webpage content, or any other form of digital content, making SEO mistakes can cost you that all-important traffic.
In this article, we are going to be exploring some of the most common SEO mistakes in digital content production. This should lead you to be able to make smarter choices when it comes to optimizing your appearance in search engines.
Why Do You Need to Avoid Common SEO Mistakes in Content Production?
One of the first things you need to keep in mind when creating digital content is that if you omit to pay attention to your SEO strategy, your website will likely get lost in a sea of others.
Almost 6 Billion Google searches take place every day. This astonishing figure shows just how much competition you have when it comes to getting noticed. Brands are desperately fighting for that all-important number-one ranking. So, avoiding the following mistakes can push you closer to this goal.
What Are These Common SEO Mistakes And How to Avoid Them?
1. Not Having A Brand Focused Keyword
With so many other websites in direct competition, it is fruitless to use branded keywords that can be applied to anyone other than yourself. For example, one only has to type in the word 'cloud computing' in Google to be confronted with results from Microsoft, Amazon, and many other reputable companies.
If you are a smaller brand selling, writing about or marketing cloud computing, coming up with a branded keyword can make a whole world of difference when it comes to driving traffic to your site. Not only will this work in terms of search engine results but as a hashtag on social media, therefore creating higher brand awareness.
For digital content like mobile apps, social media posts, blogs, and many more, your branded keyword can link together any content created by you. Therefore bringing up multiple pieces of content from one search.
2. Using Outdated SEO Techniques
Over the years, the internet has gone from strength to strength. Inevitably this means that massive changes have taken place. SEO techniques that were effective ten years ago would be utterly obsolete in 2020. For this reason, it is vital that, when creating digital content, you are employing only modern SEO tactics that will yield the best results.
What's more, Google is becoming ever-smarter and with the recent implementation of Google BERT, the software can now rank your website even for keywords that have not been mentioned. In contrast, those websites using outdated techniques stand to be penalized and find that they drop out of the search altogether.
3. Not Tracking Performance Or Performing Regular Audits
One day, your digital content may appear at the top of Google search results and the next day may disappear into oblivion as other brands and businesses overtake you. Online content is a ruthless game. That's why it pays to stay on top of everything you are doing. It is no use implementing a solid SEO strategy and applying it to your digital content to then ignore it and leave it to chance.
One of the great things about creating online content as opposed to physical content is that you are in an advantageous position where tracking performance is concerned. That being said, many online businesses, bloggers, and brands are neglecting to monitor the performance of their SEO strategies. As a result, they are missing out on critical adaptations.
We recommended that you manually audit and update your SEO techniques at least twice a year but preferably four times annually. Even better, you can set up automated technical SEO audit and on-page SEO audit to run at a specific frequency such as daily, weekly, etc using an SEO tool such as SEMrush.
This will allow you to keep reaching organic traffic no matter how times change. Review each piece of digital content and make any changes you see fit. Then continue to track the performance and notice any differences in it.
4. Not Setting Goals
SEO, like anything else in business, requires careful planning and end goals. Yet despite knowing this, many digital content creators are ignoring this. If you want your SEO to be successful, it has never been more important to plan out your goals and work towards them. When creating any type of digital content, you should be plotting out your SEO tactics alongside the creation process itself.
For many online brands, the key result is making money through driving sales. However, bloggers may be looking for people to simply read their work. Your goals will depend on the type of SEO strategy you implement. By not doing so, you are unlikely to get the results you are looking for.
5. Not Including Mobile Users
In this hugely digital era, more and more people are accessing the internet via a mobile device such as a smartphone or tablet. In fact, these days a majority of all visitors to any given website come through the use of mobile technology. It does, therefore, seem completely irrational to ignore this huge number of visitors in favour of optimizing your content for desktop viewers.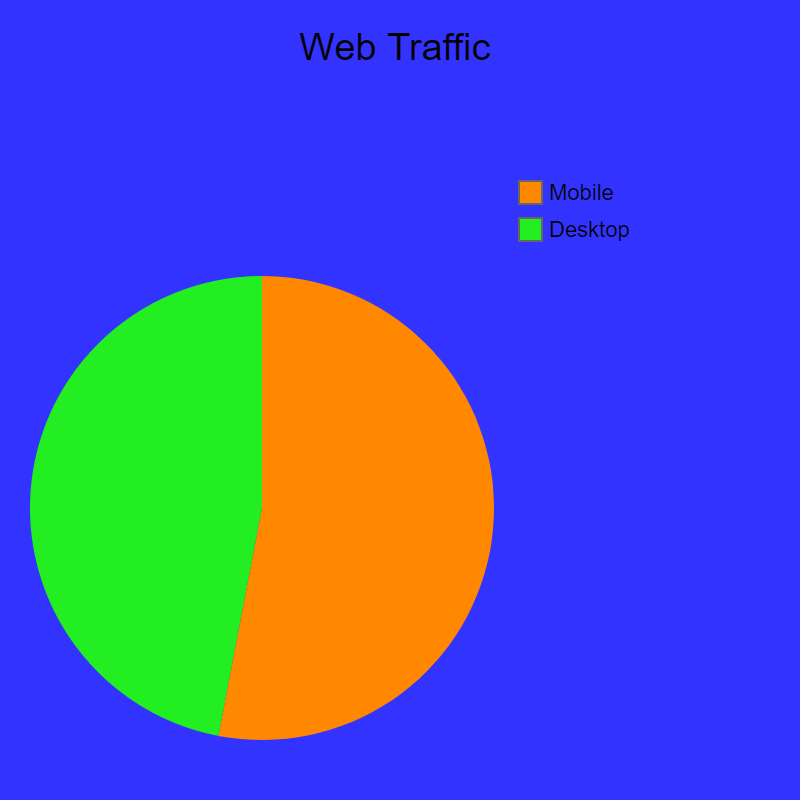 Now, whilst it is important to have a solid desktop website, many brands are not even making simple SEO adjustments for mobile users. Things such as night mode and faster loading are essential for better rankings in Google.
What's even more interesting is that Google is now including mobile-optimized websites higher up in search results, primarily before anything else. Also, much of your audience may be coming in from social media ads, most often viewed on a mobile device.
When it comes to content such as blog posts, product descriptions, or eBooks, for example, it is important to optimize these to look great on a mobile device. Without doing this, you run the risk of omitting a huge percentage of your potential traffic.
6. Ignoring Long-Tail Keyword Variations
If you aren't using long-tail keyword variations then it is almost certain that you will be behind your competitors in terms of SEO success. Did you know that using a single long-tail keyword is one of the most outdated SEO techniques? And, as we discussed earlier, those outdated tactics are a huge no-no!
By making use of many variations of your keywords, you are much more likely to appear in searches more regularly and consistently. One of the things that concern many digital content creators is finding the right keywords. But there is a wealth of tools available that can do the hard work for you, for example, SEMrush and Google's Keyword Planner. Doing this for your website as a whole and each piece of content you create is more likely to bring in higher levels of traffic.
7. Not Paying Attention To Human Users
This may come as a surprise to some of you whose focus is and always has been on targeting human visitors to the website. But there are pieces of digital content that specifically target bots. Now, while this is ideal if you are in the market to simply have the most hits in any set time period, it is less effective when it comes to engagement and more importantly, sales.
Google is focused on providing its users with an exceptional experience. And as such, Google is developing ways of picking out the websites that have the most human viewers as opposed to bots. The result? These websites rank much higher in search results.
8. Leaving The Meta-Description Out
Your meta description not only acts as a useful on-page SEO technique but is also a great way to attract users to your content. So if your meta-description is not creative, engaging, and interesting, you are much less likely to achieve good traffic levels.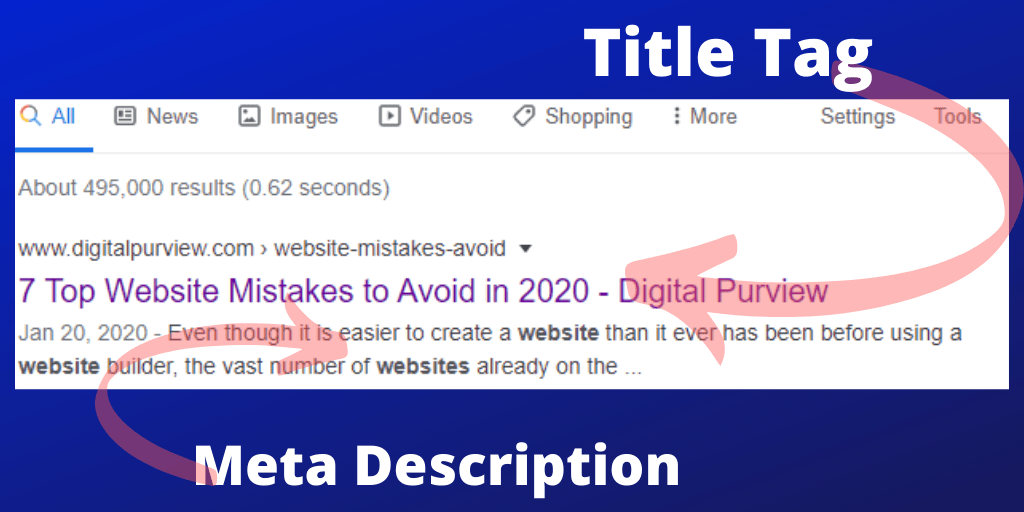 When someone sees your website in a search result, the meta-description and meta-title are the things that are going to draw them in and view your content. No matter how long you spent editing that video or how much research you put into your case study, if you aren't enticing your potential audience with a good meta description, it's unlikely that it'll gain any traction.
When you create your content, be sure to draft, edit, and create an excellent meta description at the same time. You should see it as part of the overall digital content creation process.
Conclusion
The internet is a staggeringly vast place with as much as 2 and a half quintillion bytes of data created every day. This is a huge amount of digital content that is showing no sign of slowing down. This number may come as even more of a surprise when you are creating content that you want to bring to the attention of the masses. However, by implementing a good SEO strategy with every piece of content you create, you are much more likely to reach your target audience.
The common SEO mistakes in digital content production that we have discussed can be easily avoided giving you the freedom to put your content in front of people that matter.